ABOUT Acne Laser Therapy Treatment
Our unique acne pulsed light therapy helps fight the root causes of acne and bring "CPR" to patients suffering from acne:
C: Cleanse pores
P: Purify from inside out
R: Replenish the skin
If you are frustrated with acne and wish you had clear, smooth, radiant skin…you are not alone! Millions of Americans suffer from acne from teens to well into adulthood and there is no "cure", only treatments. Many prescription medical treatments only address one or two of the root causes of acne. Our BBL for "Forever Clear Acne Treatments" system uses a special vacuum and intense pulsed light to help control sebum production, remove blackheads, oil and debris while destroying acne-causing bacteria. This helps to reduce pore size and reduction in active acne lesions.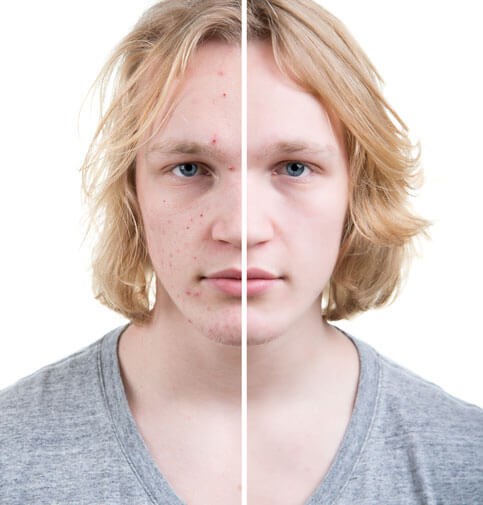 Photodynamic Therapy for Acne Removal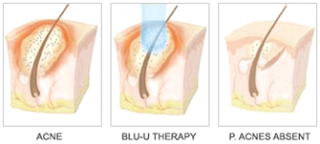 Photodynamic Therapy is a "boosted" medical laser light therapy using Levulan® to enhance the treatment of intense pulsed light and blue LED to treat acne. Levulan is absorbed by acne-causing bacteria (P. Acnes) and by over-active oil glands. This focuses the LED and IPL laser energy and targets the treatment to actually destroy acne-causing bacteria and shrink the oil-producing glands. This results in a drastic reduction in inflammatory acne lesions and a reduction in sebum production. This therapy is also very effective at treating precancerous "actinic keratosis" lesions on the skin as those lesions absorb the Levulan as well. One to three treatments are usually required for the desired result.
Reviews
"Haven't started any treatments yet so this is just about my experience with the first visit. I have never done any injectables or other treatments. After a few minutes of talking to the Dr I knew I was in the right place. This place has a great vibe. The staff is kind and very responsive via email. The Dr seems honest, experienced, and not at all pushy. I left excited to return and start."
- K.G. /
Yelp /
May 20, 2022
"The staff is always respectful and kind. Super customer service skills! They answer all my questions over the phone and patient with my needs. Thank you lady's!!! I love how Michelle the nurse practitioner keeps her notes up to date incase I don't remember what I did before and how we did it. She reviews your past treatment plan and does adjusting according to your desires. She takes her time overlooking your concerns. I never felt rushed to a decision. I like how a little bit goes a long way with her treatment plans. She has gained my trust. I used to go all the way to post oak for my Botox and fillers but now I know there's an artist with magic right around the corner."
- M.F. /
Yelp /
May 07, 2022
"Welcoming from the moment I called and made my appt.  Michelle was excellent and thorough.  I have been traveling to Austin for my TMJ Botox treatments and just couldn't find the time.  My friend referred me to About Face, when I visited another facility and the injector scared me to death with uncertainty.I will definitely return!"
- C.S. /
Yelp /
Mar 12, 2022
"Dr. Michelle was amazing! She was so quick to put me at ease and was super informative when it came to helping me form a treatment plan. Can not recommend this place enough!"
- K.C. /
Google /
Feb 23, 2022
"Great place--wonderful treatments and personable staff. They know what they're doing and you won't be disappointed!"
- M.B. /
Yelp /
Jan 10, 2022
Previous
Next
Related Procedures