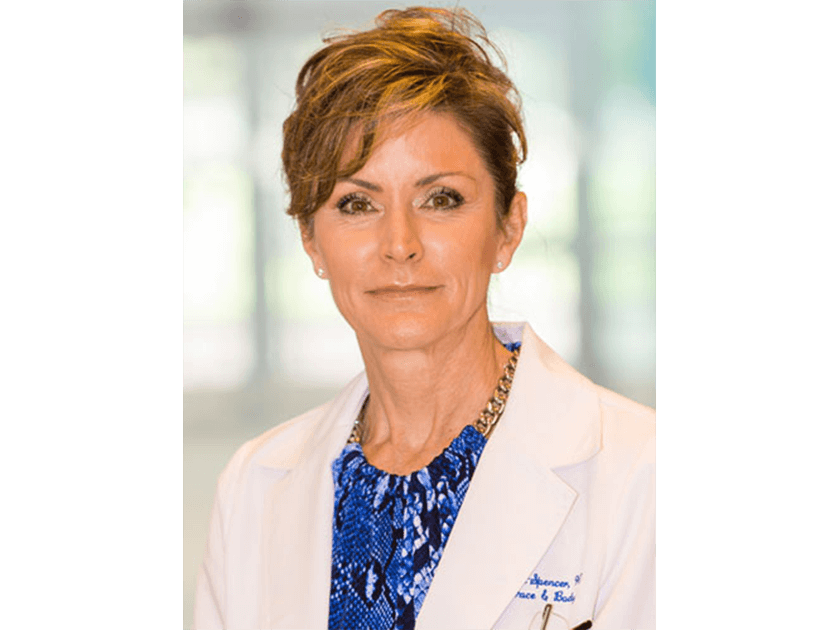 Michelle is co-owner of About Face & Body Medical Spa with her husband, Steven C. Spencer, M.D. She graduated from UTMB in Galveston, TX with her Physician Assistant degree in 1986 and certified in medicine and surgery. She has over 35 years of medical experience in women's health, as well as primary care with a focus on skin care, preventive care, and wellness. She began aesthetics in 2005 with the purchase of their first multiple platform laser, along with BOTOX and injectable fillers. Michelle carefully considers the patient's requests and has applied her high requirements of safety and effectiveness and has added multiple lasers, devices, and products to meet the demands of her clients. She is a perfectionist who specializes in facial artistry with noninvasive facial procedures and has been providing her patients natural-looking, dependable results for years. She makes it her personal goal to provide the safest, most dependable, cutting-edge treatments in the West Houston/Katy area and cares for her patients like family.
Reviews
"Michelle is, brilliant, beyond talented! professional, kind, patient and always keeps me TV ready. To you out there, don't think twice, she is hands down the best!"
L.F.
Google
"Everyone is friendly and make you feel amazing!"
C.A.
Office Visit
"I've been coming here for the past year and Michelle and Haley are both amazing at their craft! Their entire staff is so warm and welcoming and most importantly I trust them to tell me the TRUTH about what they think I need. They never try and "sell" me on something and they go out of their way to make me feel comfortable AND fully informed before I commit to anything. And my results have been amazing! I cannot recommend this place enough."
L.P.
Google
"Michelle is amazing. I really appreciate her taking the time to sit with me after my treatment."
J.R
Office Visit
"I've been coming to see Michelle for about 2 years now. I wouldn't trust anyone else with my beauty needs. She is very knowledgeable and takes the time to explain everything. Plus the whole staff is very accommodating and professional."
D.L
Office Visit
Related Posts