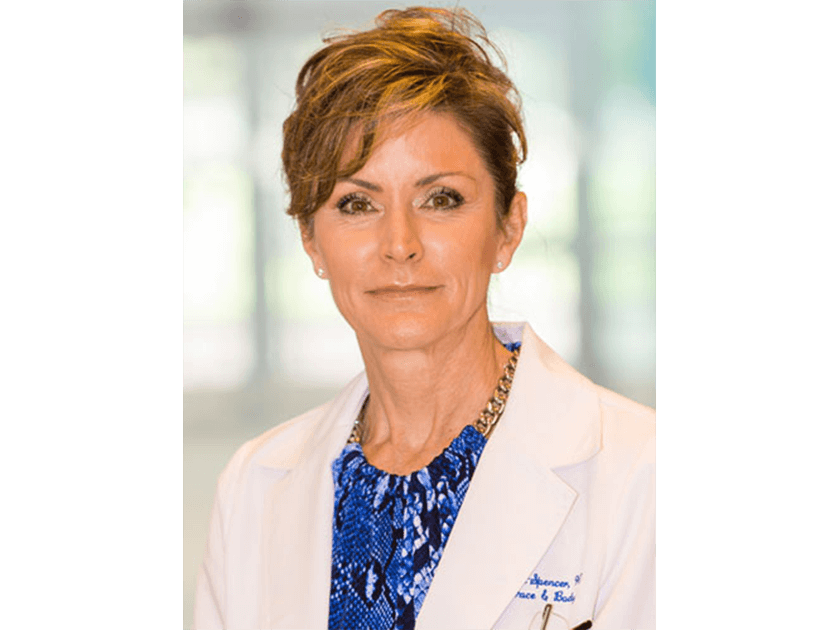 Michelle is co-owner of About Face & Body Medical Spa with her husband, Steven C. Spencer, M.D. She graduated from UTMB in Galveston, TX with her Physician Assistant degree in 1986 and certified in medicine and surgery. She has over 35 years of medical experience in women's health, as well as primary care with a focus on skin care, preventive care, and wellness. She began aesthetics in 2005 with the purchase of their first multiple platform laser, along with BOTOX and injectable fillers. Michelle carefully considers the patient's requests and has applied her high requirements of safety and effectiveness and has added multiple lasers, devices, and products to meet the demands of her clients. She is a perfectionist who specializes in facial artistry with noninvasive facial procedures and has been providing her patients natural-looking, dependable results for years. She makes it her personal goal to provide the safest, most dependable, cutting-edge treatments in the West Houston/Katy area and cares for her patients like family.
Reviews
"I have been all over the country as well as here in Houston to some of the top and leading Botox and face specialists. Without a thought, Michelle Spencer PA is the best! She's a highly acclaimed facial rejuvenating genius and artist. That in itself separates her from others. She has literally taken 10 years off of my face! She will walk you through everything and in the end it is your decision! Her incredible bedside manner is addicting- you know you're with a true professional but you feel like you're with a friend. Her team is fabulous as well! LOVE THIS entire experience!"
L.F.
Yelp
"This place is the BOMB! I use Brittani for microdermabrasion, and Michelle for all my injections. I would literally not trust anyone besides these two women for the services they provide!My skin is in better shape than it ever has been, and as we all know, once you approach your thirties, your skin totally changes. I feel like I have my high school face again, minus the horrendous acne. So many injection specialists make lips and faces look FAKE and I hate that! It's as if they don't know how to react when someone wants a "natural" look. Well, I've finally found one who understands what it means. The services here are the right price for the right results. Once you try them, you won't want to go anywhere else!!"
A.S.
Yelp
"I met Michelle Osborne-Spencer, PA at About Face and Body when I decided to enlist in the My Ideal Protien Diet.  Jenny G. was my coach and mentor as I made the decision to shed some weight and get healthy.   She  steadfastly encouraged me, and we shared life experiences. She herself used the scientific diet plan.  Jenny is very knowledgeable and personable. An upcoming invitation  featuring Michelle  performing aesthetic services on  patients was posted in the office.  I decided to bring a friend and attend.  I was impressed with the transparency and the easy exchange of questions and answers.  I was immediately drawn to Michelle's  warmth and honesty.  She possesses medical credentials that heighten her integrity.  She is artistic and forthcoming with realistic goals designed specifically for each patient.  Consultations are complimentary.   There is no pressure.  I feel completely at ease with her. The entire team works toward the well being of each patient.  It is amazing how passionate Michelle is about her profession and commitment to her patients.  Yvonne L."
Y.L.
Yelp
"I have had three Obagi peels by Amber, and I am so pleased.  The wait is usually about 10-15 minutes, but Amber is very friendly, attentive, and knowledgeable about what she does.  I've had great results each time, and I plan to continue treatments here."
E.C.
Yelp
"Yes Yes Yes This is the Med Spa for all your needs. There is a wonderful vibe there and best of all one great PA to do your fillers, injectables, and other non-surgical cosmetic improvements."
C.P.
Yelp
Related Posts